How to Enable Memory Extension on Xiaomi Phones (Increase RAM)
In recent years, the trend in mobile phones has been that they have more and more ram. This is a big increase from when smartphones started out with only 128mb of RAM. Today's top models come with 4GB or even 6GBs of RAM! My Xiaomi phone came pre-installed with 2gb but I want to upgrade it for various reasons such as better performance, advanced features or simply because I can't live without 8 gigs. But how do you actually go about doing this?
The "miui memory extension feature" is a feature that allows users to increase the amount of RAM on their Xiaomi phones. This will allow your phone to run more apps, and in some cases games.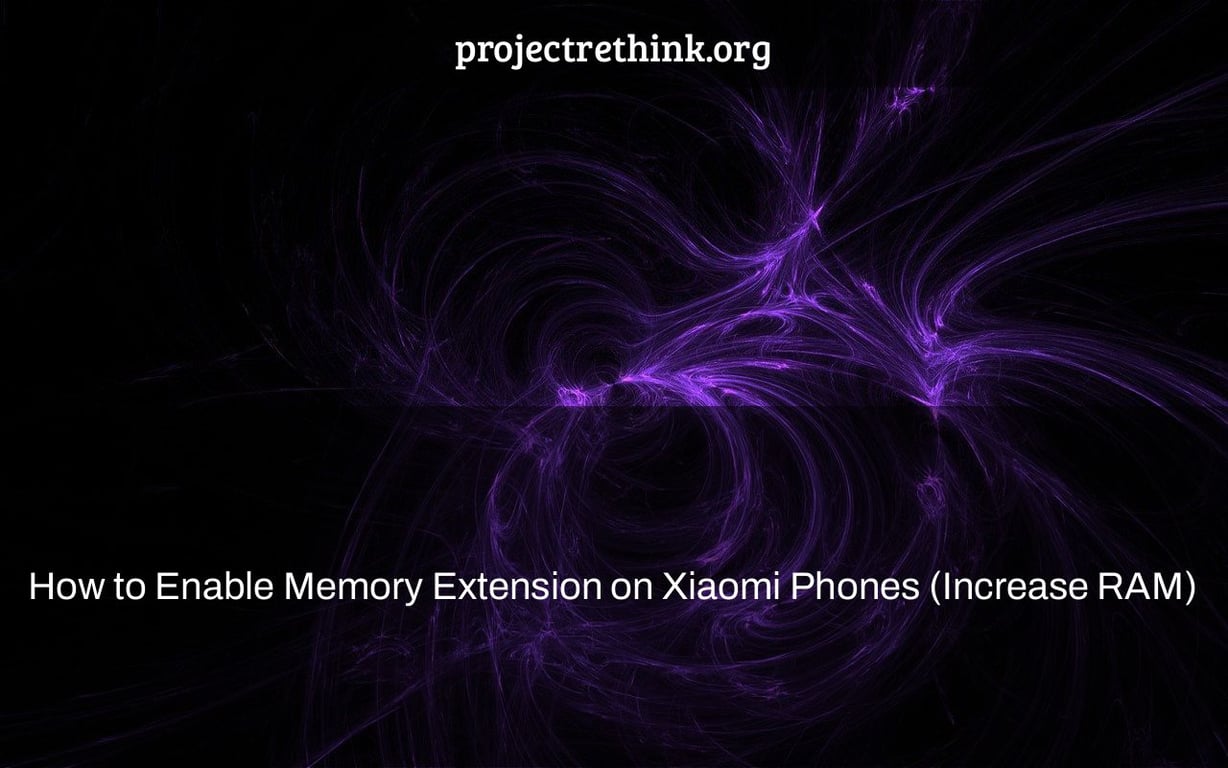 OEMs are increasingly focused on features like RAM expansion, read and write speed, and so on, as the demand for RAM utilization by OS, games, and applications grows. Many OEMs have succeeded in effectively integrating RAM or RAM Expansion functionalities into their smartphones thus far. Xiaomi is one among these manufacturers. So, if you have a Xiaomi phone, you may use this technique to activate the memory expansion on your Xiaomi phone.
Because they have better visuals, more functionality, and so on, games and applications now use more resources. In terms of increased RAM use, we'll either need a new gadget or a method to manage these programs and games without issue. Smartphone manufacturers are also aware of the problem, and as a result, the majority of them provide customers with the opportunity to boost RAM.
What is Memory Extension, and how does it work?
Xiaomi phones running MIUI 12.5 or later include a function called Memory Extension. This new feature does just what it says on the tin. By taking up storage, it adds 1/2/3 GB of RAM. This means you may utilize 1 GB, 2 GB, or 3 GB of RAM from your internal storage as extra RAM.
Due to the differences between RAM memory and storage, the performance of extra RAM retrieved from storage will not be identical to that of original RAM, but it will provide a performance increase to some level. As a result, it is preferable to utilize this function in order to improve your Xiaomi phone's gaming and multitasking performance.
What is the maximum amount of RAM you can add?
Phones with at least 256GB of storage and 3GB of RAM
2GB for phones with 128GB of storage
64 GB Storage Phones – 1 GB
If you didn't know, Xiaomi phones running MIUI 12.5 and MIUI 12.5 Enhanced include the Memory Extension option (or newer). MIUI 12.5 Enhanced has been launched for Xiaomi's various devices, with the majority of phones receiving Memory Extension with Enhanced. In the future, it will be accessible on additional devices.
MIUI 12.5 Enhanced is a software upgrade that prioritizes device efficiency above new features. Memory Extension, Atomized Memory, Swift Performance, Liquid Storage, and other performance modes are among them. These modes' availability vary depending on the device. The Memory Extension, on the other hand, is accessible on all Xiaomi phones running MIUI 12.5 Enhanced.
List of Xiaomi Phones that Support Memory Expansion
Xiaomi Mi 10/Pro/Ultra
Xiaomi Mi 10 Lite
5G Mi 10 Lite
Xiaomi Mi 10 Lite Zoom
11/Pro/Ultra Mi 11/Pro/Ultra Mi 11/Pro/Ultra
Mi 11i
Mi 11T
Mi 11T Pro is a smartphone from Xiaomi.
Xiaomi Mi CC9 Pro
Mi Mix 4
Mi Note 10 is a smartphone from Xiaomi.
Redmi 10
Xiaomi Redmi 10X 4G
Xiaomi Redmi 10X 5G
Xiaomi Redmi 10X Pro
Xiaomi Redmi K30
Xiaomi Redmi K30 5G
Speed of the Redmi K30
Xiaomi Redmi K30 Ultra
Xiaomi Redmi K30i
Gaming Redmi K40
Xiaomi Redmi Note 8
Xiaomi Redmi Note 9
Xiaomi Redmi Note 9 5G
Xiaomi Redmi Note 9T
Xiaomi Redmi Note 10 5G
Xiaomi Redmi Note 10 Pro (Redmi Note 10 Pro)
Poco F3
Poco F3 GT is a sports car by Poco.
Poco M3
Poco X3
NFC Poco X3
Poco X3 GT is a smartphone by Poco.
Pad 5 Series by Xiaomi
Devices with Snapdragon 888/870/865 (except Mi Mix Fold)
and more
The Memory Extension function is available on the following Xiaomi phones. Thanks to Kacper Skrzypek for compiling this comprehensive list. More devices will get the new function soon, so keep an eye on his upcoming Tweet in the series.
On Xiaomi phones, how do you enable memory expansion?
MIUI 12.5 Enhanced will be rolled out to third-batch phones by Xiaomi. If you have the update, you may quickly boost your phone's RAM. However, if this is not the case, check into your device eligibility and the deployment strategy. So, if your phone has already been updated, you may proceed to the steps to allow RAM expansion on your Xiaomi phone.
Check to see whether your Xiaomi phone is running MIUI 12.5.
It will utilize your device's Internal Storage, therefore clean up your storage (at least 5GB free space is advised).
Now go to your Xiaomi phone's Settings.
Go to Memory Extension > Additional Settings.
You may activate Memory Extension by turning on the toggle here.
Other OEM phones have the same RAM Expansion function, although it goes under a different name. As a result, we'll provide distinct guidelines for various OEMs. You may follow us on Google News (@YTECHB) and Twitter (@YTECHB) if you have another device and wish to boost the RAM on your phone.
Also look at:
Watch This Video-
The "miui 13 ram upgrade" is a way to increase the RAM on Xiaomi phones. The process is different for every phone, but it's usually pretty easy.
Related Tags
miui 12 memory extension
xiaomi memory extension
memory extension poco x3 pro
extension ram
memory extension miui 13